Manuel Burger of ETH Zürich and His Student Cluster Competition Team of First-Timers Prevail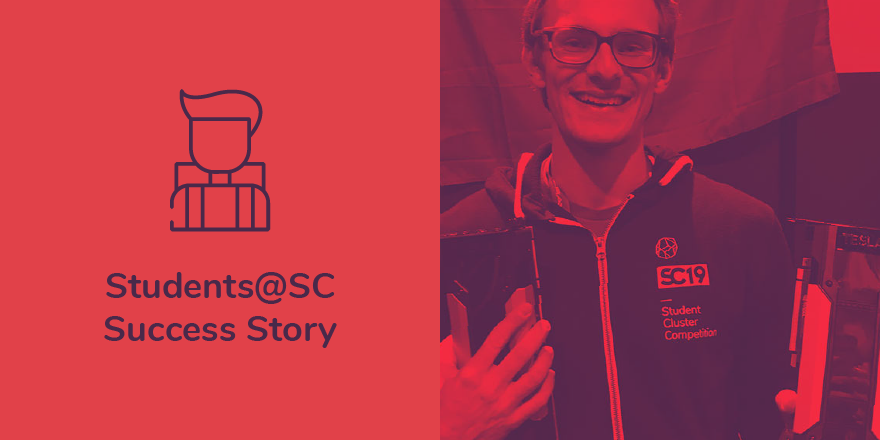 Torsten Hoefler, a computer science professor at ETH Zürich, presented an opportunity to participate in a Student Cluster Competition (SCC) to his class. Lukas Kapp-Schwoerer, a computer science student and teaching assistant at ETH Zürich, was enthusiastic about the opportunity. He and Manuel Burger, a student in his last Bachelor's degree year majoring in computer science, and their like-minded friends decided to create a team. Unfortunately, after competing with the team at ISC19, Kapp-Schwoerer could not join the competition at SC19. By then he had a BA degree in business.
Hoefler also was excited to mentor his students through this adventure. He immediately applied for them to participate at the International Supercomputing Conference (ISC).
At that time, however, the team, consisting of Manuel Burger, Jan Kleine, Thore Goebel, and Valeria Jannelli, lacked two essential members. Built on friendship, camaraderie was an important factor when the group went recruiting among their classmates for two additional teammates, Simon Jacob and Emir Isman, who rounded out the team.
"Wir suchten Leute, die sich der Sache gleichermassen verschreiben würden."
"We were looking for people that were equally dedicated," Burger said, once the team was complete.
"Da wir alle Kommilitonen sind, trafen wir uns häufig an der Universität in Pausen und ausserhalb Vorlesungen. Wir versuchten uns jeden Mittwoch zu treffen um anstehende Aufgaben zu besprechen und die Arbeit aufzuteilen. Zusätzlich hatten wir spontane Treffen ausserhalb der fest geplanten Besprechungen. Ein Teammitglied, Valeria Jannelli, befand sich in einem Austauschsemester in Tokyo, Japan und wir hielten sie permanent auf dem Laufenden."
"Since we were all classmates, we would meet at university, as well as outside of classes. We tried to meet every Wednesday to discuss what we needed to do and separate the tasks. We also had spontaneous meetings outside those meetings. Valeria Jannelli, one of our team members was studying in Tokyo, Japan for the semester, so she followed us remotely."
When the team competed at ISC2019 they were awarded third place. That success gave them the confidence to apply to SCC at SC19.
ETH Zürich's team received great support from the Swiss National Supercomputing Centre, known as CSCS, their school, and their mentor, Hoefler. Burger says the team was very grateful that CSCS put them in contact with Hussein Harake, the HPC system manager at CSCS. He helped direct the team to vendors. Harake also made sure the team was invited to the 2019 Swiss Conference & HPCXXL User Group, where they had the opportunity to meet their sponsors in person.
"Das alleine war schon eine unglaubliche Erfahrung für das Team."
"This in itself was already an incredible experience for the team," Burger said.
"Wir erhielten auch grosse Unterstützung von CSCS Vizedirektor Michele De Lorenzi. Wir reisten mehrere Male nach Lugano, um dort die Systemadministration und Hardwarezusammenstellung zu besprechen."
"We also received great support from Michele De Lorenzi, CSCS Deputy Director. We went to Lugano (CSCS) a couple of times, where we exchanged about how to administer system and different equipment options."
These encounters provided the ETH Zürich team sponsorships from the following companies:
The team also applied to the Swiss Hasler Stiftung (Hasler Foundation) to request travel funding and support for associated expenses, which were granted.
SCC Challenges and Successes
As with other international-based teams, ETH Zürich's trip to SCC at SC19 had its share of logistical hurdles.
"Das System wurde nicht an den richtigen Ort geliefert,"
"Our system was not sent to the right destination," Burger explained.
"Unser Cluster wurde in teilweise wiederverwendetem Verpackungsmaterial versendet. Zusätzlich zu unseren Standinformationen waren Cray– und CSCS-Beschriftungen daran. Die Zusteller waren verwirrt. Am Sonntag suchten wir die gesamte Messehalle nach unserem Material ab und die Logistik bestätigte uns die erfolgreiche Zustellung mehrfach. Montagmorgens kam eine Dame zu unserem Stand und fragte uns, ob eine grosse Kiste an ihrem Stand uns gehörte, da sie nicht von ihnen sei. Das Rätsel war gelöst; unser System wurde zum CSCS-Stand geliefert. Wir waren nun 48 Stunden hinter den anderen Teams." 
"Our cluster was wrapped in refurbished material. It had Cray and CSCS labels, as well as our cluster booth information glued on it. The deliverers got confused. On Sunday, we ran all over the show floor to find our material that the sender kept confirming it as delivered. Monday morning, a woman came to our booth and asked us if this huge box was ours as it wasn't theirs. The mystery was solved, it had been delivered to the CSCS booth. We were now 48 hours behind the other SCC teams."
Although this logistical hiccup made for a rough start, it did not hinder team morale or motivation. Burger thought the experience was invaluable.
"Wir können aktuelle Hardware nutzen."
"We got to use recent hardware," he said.
"Alles was wir in Vorlesungen lernen, können wir nun praktisch anwenden. Jetzt können wir wirklich verstehen, wie Dinge gemacht werden, was sie bedeuten und bewirken."
"Everything we are taught in lectures became hands on. We were able to actually understand how to do things and what it all means and does."
Throughout the competition Burger was surprised to see the numerous vendors and show attendees, as well as their sponsors, come and exchange ideas with them.
"Leute würden einfach bei uns auftauchen und mit uns sprechen." 
"People would just pop up and chat," he said.
"Wir fanden dann heraus, dass sie die CTOs von dieser und jener Firma wären. Manche hinterliessen uns ihre Visitenkarten und wiesen uns auf Praktikums- oder Stellenangebote hin. Das war eine unglaubliche und anregende Erfahrung. Wenn wir wieder es wieder machen könnten, würden wir sofort."
"We would then find out that they were the CTO of such and such. People would leave us their cards and tell us that they would like to see us apply for internships or jobs after the competition. This was an incredible, invigorating experience. If we could do it again together, we would."
—
Christine Baissac-Hayden
SC20 Students@SC Communications Liaison (Easy English 4 All)
Christine Baissac-Hayden created Easy English 4 All, which provides multilingual communication tools for clients from diverse backgrounds in the renewable energy, medical, defense, marine science, and film industries. Easy English 4 All provides English as a Second Language (ESL), French, Spanish and Japanese tutoring from certified native-speaking teachers and organizes international student exchanges with personalized objectives and goals.